28th May 2014 - 16:53
Good wind and three races completed on Day 3 gets Samui Regatta series back on track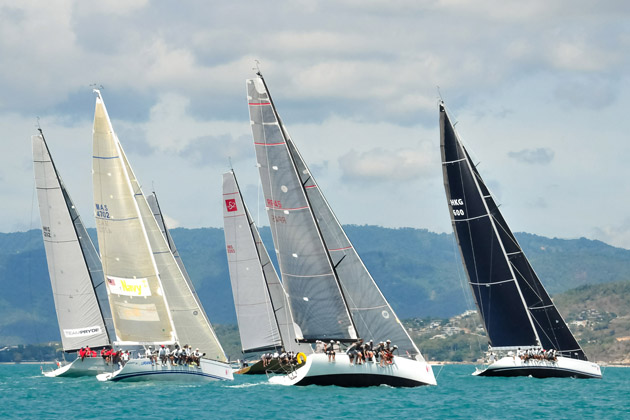 Looking at the weather reports early in the morning on Day 3 of the Samui Regatta, it appeared to be more of the same. However, the powers-that-be had other ideas and as the Principal Race Officer headed out of Chaweng Beach and five miles North he found some good pressure and set the startline.
The moderate breeze held and according to Race Director Simon James, "If the breeze comes in around 10am in the morning, then it stays pretty much all day". And it did. Varying strengths and a few shifts to challenge the sailors, but the wind held 7-10 knots and the fleet completed three windward/leewards to get the series back on track.
Enjoying the fresher breeze was Frank Pong and his multinational crew on Jelik, the largest in the fleet at 75-foot. Hailing from Hong Kong/ China, Pong lead the IRC Zero fleet around the course in Race 1, comfortably taking line honours nine minutes ahead of the Ahern/ Bailey/ Wilmer TP52, Oi!
With handicaps applied, Pong and his crew were the winners on corrected time by a little over a minute, their first win of the series moving them up the standings.
Second on handicap was Neil Pryde's Welbourne 52 HiFi who sailed the breeze well to edge out Oi! who had to settle for third a little over 30 seconds back.
The Aquila Reichel Pugh 45 Katsu was undone today and after a series of third places early on in the series, slipped down to seventh in Race 1, behind late arrivals, the TP52 Team Ulumulu from Malaysia, who missed the first day of racing due to a late delivery of the boat.
Race Two got underway in similar breeze and Jelik, adding another win, lead from start to finish to take their second line honours and handicap double of the day. This time is was the TP52 Freefire 52, skippered by Sam Chan, that snook into second place just eight seconds behind Jelik and a little over one minute ahead of Oi! in third.
Despite a fourth in the second race, HiFi were back at it in the final race and pipped Oi! by just eight seconds to the win. Oi! finished second and for Jelik it was another line honours and a third place finish on corrected time.
With the drop race added, Jelik now moves into second overall behind HiFi with Oi! in third. Just three points separate the top three going into the Reserve Day.
It has been nail-biting stuff in IRC One so far this week with places being decided by seconds, and in Race 1 today less than one minute separated the top three on corrected time.
A man on a mission, Bill Bremner helmed his Mills King 40 Foxy Lady VI to another win ahead of Marcel Liedts' Sydney GTS 43 Elektra, who are keeping them honest and took line honours, again. Third place went to the rapidly improving Jessandra II, a Corby 36 new to the Asian circuit being skippered by Roland Dane.
There was drama on the Race 2 startline when Jessandra II tangled up in the startboat's anchor chain. Despite this, they managed to come back and place sixth on corrected time. But again, and by less than a minute, the honours went to Foxy Lady VI who squeezed out Elektra, who took a second line honours of the day as compensation.
Twenty-five seconds separated first, second and third in the final race for IRC One. A third line honours of the day for Elektra, however, wasn't enough to hold off the charge from Foxy Lady VI who won yet another, this time by just nine seconds from Jessandra II who recovered well from their mishap at the beginning of Race 2. Elektra rounded out the podium.
Scoring the cruising boats in IRC Two firstly on IRC and then using the NHC Performance handicap system, is throwing up some different results.
Under IRC, the day belonged to Gary Baguley's El Coyote with a clean sweep of three races. And after the drop has been added they now lead the series by three points from Sansiri, skippered by Patinyakorn Buranrom, who's three second places on the day keep them in the running. Three third places for Mick Grover's Moon Shadow leaves them in third overall.
Under the NHC Performance handicap system, Sansiri leads the standings by three points after a 1,1,2 today. A 4,3,1 on the day sees Moon Shadow joint second overall with El Coyote.
After a tricky first two days, today delivered some good wind and the racing programme is back on track. Tomorrow is scheduled as a Reserve Day. Racing will recommence on Friday 30th at Centara Grand Beach Resort Samui, off Chaweng Beach, Samui, Thailand.
For more information, visit www.samuiregatta.com.