27th May 2016 - 17:38
Event Media
Classic Samui conditions for Day 4 of 2016 Samui Regatta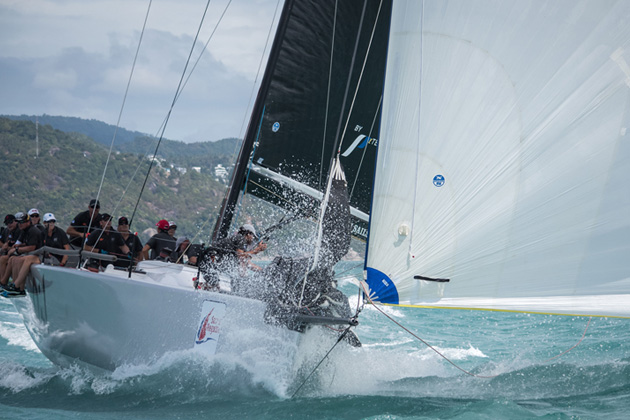 Day 4 produced classic Samui Regatta sailing conditions: a fresh 15 knots and building, blue skies and flat seas which delivered some of the fastest and most exciting racing yet. Following a windward/leeward for IRC Zero and IRC One, PRO Ross Chisholm sent all classes on a coastal course south past Lamai Beach towards Katen Island, finishing back off Chaweng Beach.
The dominance of THA72 in IRC Zero has come as a surprise to some. The ex-Provezza is well prepared and with a combination of former crew from the Provezza campaign and owner Kevin Whitcraft's local crew, they've put together a series of eight bullets so far, including two more today with a five minute handicap win in today's first race and in the second finishing just 30 seconds behind the larger 75-foot Jelik on-the-water. Meanwhile at the 52 Super Series in Italy, the new Provezza also scored two wins.
With an unassailable lead for Whitcraft, all attention is on the battle for second and third places. Close racing today between the TP52's Oi!, Freefire and Team Ulumulu saw all correcting out within two minutes of each other with Oi! getting the better finishing in third behind Jelik, in second. Experiencing a problem with their spinnaker hoist early in the race, Windsikher II never recovered and dropped to sixth.
In the second race Windsikher II bounced back to place second and with the discard in play they sit one point ahead of the fast finishing Oi! with just one day and a maximum of two races to go.
There was plenty of action in IRC One today as Black Baza and Loco clashed rigs on the course. Both went onto the finish the race, however damage sustained to Black Baza meant they headed back to the anchorage and didn't compete in Race 2. Later in the jury room Black Baza were found to be at fault and disqualified from the race.
Struggling to convert their on-water speed to handicap wins so far this week, and a DNF in Race 1 today, Ambush revelled in the longer distance coastal course and scored their first bullet of the series. Two more second place finishes for EFG Mandrake III make it five in a row and they now sit comfortably in second place overall. A disappointing fourth in the second race, following a win in the first for Jessandra II, will be quickly forgotten as their seven point lead puts them almost out of touch of the rest of the class.
For the Cruising Class boats, one single coastal course was the order of the day and El Coyote returned to their winning ways and with it extended their lead at the top of the scoreboard. Moon Shadow retired mid-race leaving Le Cochon Noir V and SailQuest Hi Jinks to slot into second and third places respectively.
Tomorrow is the final day of racing and the regatta culminates in a lavish Gala Dinner on the lawn, hosted by Centara Grand Beach Resort Samui, Chaweng Beach.
For more information, visit www.samuiregatta.com.