26th May 2015 - 16:06
Event Media
All change on Day 2 of Samui Regatta 2015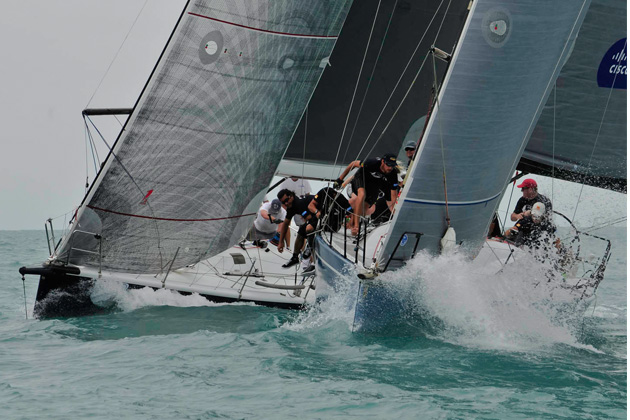 Table cloths were being clipped down at breakfast this morning as another squall zipped through the anchorage and the stunning Centara Grand Beach Resort Samui with someone claiming "30 knots for breakfast again". The wind strength then dropped and settled in around 10-12 knots by start of racing on Day 2 of the 2015 Samui Regatta.
A quick windward/leeward in the morning's moderate breeze saw Jelik (HKG) walk away with line honours in IRC Zero class, but their winning margin wasn't enough to secure the win on corrected time and they had to settle for a second place in Race 1.
Race 2 was a replay of yesterday's second race with Jelik quick off the line and over the horizon - this time heading north for the passage race - another line honours to their tally and converting out to fourth.
Following some close racing between FreeFire (HKG) and Oi! (AUS) yesterday, with the former getting the better of the latter in both races, all eyes were on the two TP52's today as they left the anchorage to renew their rivalry.
By Oi!'s (AUS) high standards, yesterday was likely one they would prefer to forget, and they went a long way to achieving that with a stand out performance today. Two clear wins wipes away memories of yesterday and moves them to the top of the standings, tied on points with yesterday's leader Windsikher II (SIN), who finished the day with a 3,2 scoreline. FreeFire were off the pace today and had to take a penalty turn in Race 1, leaving them with a 4,3 for the day.
Oi! bouncing back to form has shaken up the IRC Zero standings and thrown it wide open for the final three days of racing.
Steve McConaghy proved his pedigree on Foxy Lady VI (SIN) today as it was his tactical call in Race 1 that made the difference. Splitting from yesterday's winner Jessandra II (RQ) and Fujin (AUS), Foxy Lady VI and EFG Mandrake (HKG) got the best wind on the opposite side of the course. Third across the finish line, Foxy Lady VI's five minute on-the-water lead over Jessandra II was enough to convert to a handicap win, their first of the Series and an improving scorecard - 3,2,1 after the first three races.
Jessandra II had a tough day; off the pace in Race 1 and then hitting a glass patch in Race 2 saw them knocked off the top spot with a 3,5 today. However, all credit should go to the Foxy Lady VI crew who made it two wins from two races today and with that put one point of light between themselves and EFG Mandrake in the standings.
Chloe Giselle (GBR) had a disappointing day, ripping their sail and a resultant DNF in the single IRC Two (IRC) race today. They were quick back on anchor and looking to make repairs, determined to be out on the startline again tomorrow.
The smallest of the IRC Two (IRC) boats, the Elliott 7 Moon Shadow (THA), stepped up a gear to out sail many of her bigger rivals and secure their first podium of the series, a third place. However not even the all-Thai crew on Windstar (THA) could keep Gary Baguley and his El Coyote (AUS) crew at bay who were runaway winners today. Windstar placed second.
Scoring with the National Handicap Cruisers (NHC) system, Windstar was promoted to first in IRC Two (NHC) while El Coyote remains at the top of Premier (NHC) with another win today.
Racing continues tomorrow.
The 2015 Samui Regatta takes place 23rd to 30th May at Centara Grand Beach Resort Samui, and is organised by Regattas Asia in conjunction with the Samui Yacht Club Regatta, under the auspices of the Yacht Racing Association of Thailand, the Municipal of Koh Samui and the Sports Authority of Thailand.
Full results can be viewed at www.samuiregatta.com/on-the-water/results.
# # #
Media Contact
Nungruthai Julakul/ Duncan Worthington
Infinity Communications
Tel: +66 (0) 83 650 6848/ +66 (0) 81 893 4006
Email: bdm@infinity-comms.com