24th May 2016 - 17:02
Event Media
Consistency proves key on Day 2 of Samui Regatta 2016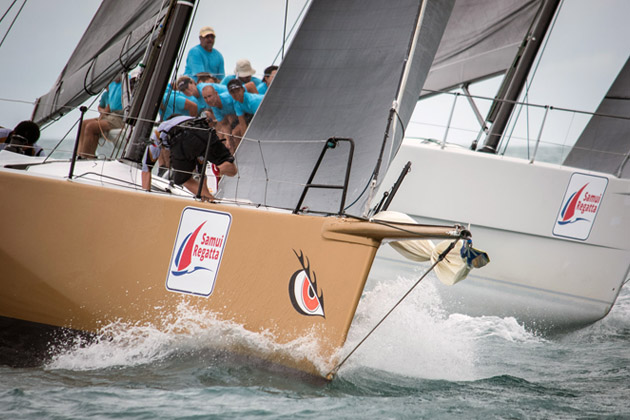 It was a slightly more sedate start to Day 2 as the AP was raised onshore and the fleet waited out an impending storm in comfort. After said storm below through it was back to business. AP down and out to the startline.
Following yesterday's storms and gusts in excess of 40 knots at times, the fleet looked a little worse for wear. Team Ulumulu, suffering from a broken boom yesterday, Black Baza with a prop problem and Moon Shadow deciding not to leave the anchorage saw them all DNS today, while some co-ordinated teamwork from the THA72 crew saw sails off the boat yesterday, flown to Bangkok, driven to Pattaya, repaired and flown back to Samui this morning and all rigged and ready to race in Race 1.
The effort was clearly worth it as THA72 roared out to round ahead of Jelik in Race 1, only to be later overtaken themselves, but the distance wasn't enough for Jelik who had to settle for second on handicap, two minutes behind THA72 on corrected time. Fast forward to Race 2 and THA72 excelled in the building 20+ knot breeze to correct out for the win by more than four minutes and make it four wins from four races.
Shredding a spinnaker yesterday didn't throw Jelik off their game as they held on for second place in Race 1, just three seconds ahead of Windsikher II. Freefire and Windsikher II tracked each other closely in Race 2 and while Windsikher II got the better of the duel it was the Bailey/Wilmer skippered Oi! who sailed a clean race to secure second, their first podium of the series so far.
In IRC One a pattern is developing: Jessandra II continues on their unbeaten run. Two more wins today and a 2,3 for Fujin leaves them both firmly at the top of the standings but the placings tell only part of the story as the the winning margins are getting smaller: just 16 seconds between first and second in Race 1 and four seconds in Race 2 as EFG Mandrake III put in their best performance yet and with it pulled themselves up the leaderboard.
With Moon Shadow sitting out the racing today, it was a three-way battle in the Cruising Class and the spoils were shared around. SailQuest Hi Jinks placed second in Race 1 - their highest so far - while a 1,2 scoreline for El Coyote leaves them top of the standings. In Race 2 Le Cochon Noir V took full advantage of their 74-foot waterline length and pulled off a well earned bullet and they now site in second overall, three points behind the leader.
Despite the weather forecasters predicting 25+ knots at times, the winds held fairly constant and without the gusts of yesterday provided some excellent and exciting racing.
Racing continues tomorrow off Centara Grand Beach Resort Samui, Chaweng Beach.
For more information, visit www.samuiregatta.com.