23rd May 2016 - 17:14
Event Media
When the going gets tough: Samui Regatta 2016, Day 1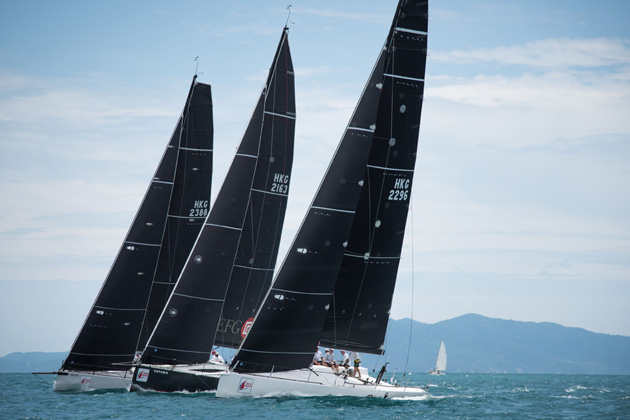 Weather reports predicted mid to high teens as the fleet left the anchorage for Day 1 of the Samui Regatta 2016 but by the end of today's racing sailors had experienced everything from a steady 10 knots for Race 1, to 15 knots and building in Race 2, to a squall with 30+ knot gusts in Race 3 finishing in a mid-race abandonment and boats and crew limping their way back to shore.
When quality counts, Samui Regatta comes up trumps. An IRC Zero Class of six of Asia's best includes four TP52's (which are also to be scored in a TP52 division), the Custom Welbourn 52 of Sarab Singh and Frank Pong's ever youthful 75-foot Jelik. Five 40-footers and the Corby 36 Jessandra II make-up IRC One while a four-strong Cruising class ranging from 23-foot to 74-foot rounds out a varied, quality and international fleet.
In just their second competitive outing, the new generation TP52 of Kevin Whitcraft, THA 72, showed their speed differential today with two bullets and a two minute winning margin in both the short windward/leewards raced. Last year's class winner, Windsikher II skippered by Sarab Singh, finished second in the first race but dropped to fourth in Race 2.
With a third in Race 1, Sam Chan and his Freefire crew went one better to finish second in Race 2 ahead of Troy Yaw's Malaysian entry, Team Ulumulu in third, making it a TP52 podium sweep.
Racing has been close in IRC Zero with less than one minute separating second to fifth placings in Race 2 today.
With a mix of planing and displacement racers in the IRC One Class expectations were that course choice and prevailing conditions could dictate the outcome this week. However, after shaking off the cobwebs with two short windward/leewards, double first blood went to defending champion Jessandra II, skippered by Roland Dane and with Steve McConaghy onboard calling tactics.
Showing how evenly matched the "40-footers" are, a little over two minutes separated the entire class in Race 1.
The Brown, Ketelbey, Sorensen-sailed Fujin performed consistently with two second places while third was shared between AsianYachting Grand Prix winner-elect, Black Baza, and EFG Mandrake III.
The 74-foot Le Cochon Noir V, skippered by Roman Guarsa, was looking for some distance to stretch their legs but had to settle for a Race 1 sub-60 minute windward/leeward and despite this managed to secure second place in their first ever race in Thailand. Gary Baguley's El Coyote scored the bullet with the smallest boat in the fleet, Mick Grover's Elliot 7 Moon Shadow, placing third.
It was all change in Race 2, however, as Moon Shadow got upto speed and scored their first win, relegating El Coyote to second and Le Cochon Noir V to third.
As the sailors take stock of their boats and equipment back onshore, Windfinder is predicting 20+ knots throughout the day tomorrow.
The 15th Samui Regatta will take place 21st to 28th May, 2016 headquartered at Centara Grand Beach Resort Samui, and is organised by Regattas Asia in conjunction with the Samui Yacht Club Regatta, under the auspices of the Yacht Racing Association of Thailand, the Municipal of Koh Samui and the Sports Authority of Thailand.
For more information, visit www.samuiregatta.com.