29th May 2015 - 15:30
Event Media
Samui Regatta goes down to the wire after a tough Day 4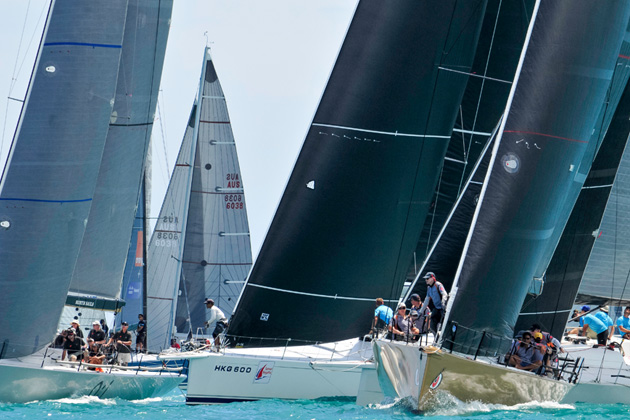 The fleet lined up for a two-race schedule on Day 4 of the 2015 Samui Regatta, but the Wind Gods had other ideas. A short delay while the breeze filled in and Ross Chisholm got IRC Zero off first only to abandon the race soon after following a significant wind shift.
A little more waiting around and all classes were finally sent on a windward/leeward: three laps for IRC Zero, two laps for IRC One and two laps on a shorter course for IRC Two.
"Shifty" and "light" summed up the day and after a tough first race, the wind died and the Race Officer decided enough was enough sending the fleet back to shore.
Geared up for light-wind racing, Windsikher II (SIN) sailed tactically well in IRC Zero, picking the pressure and keeping the 52-footer moving in the light wind to convert a 10-minute deficit on line honours winner Jelik (HKG) into a handicap win of just over 40 seconds.
Less than a minute on corrected time separated second-placer Jelik and Oi! (AUS), and today's third place for Oi! gifts Windsikher II a two point lead going into the final day.
It was all change in IRC One as the Hong Kong crew on EFG Mandrake reveled in the fickle breeze to cross the line in second and convert to a win on corrected time, their second win of the Series, while the Royal Malaysian Navy team on Uranus (MAS) claimed line honours today and held onto second ahead of Jessandra II (RQ).
Twenty seconds further back were Foxy Lady VI (SIN) whose fourth place today sees their lead reduced to a single point with EFG Mandrake and Jessandra II tied on points in second and third respectively.
IRC Zero and IRC One classes, with a maximum of two races on the final day tomorrow, are set to go down to the wire.
Despite the tricky conditions, Siren (HKG) came into their own in IRC Two (IRC) today winning the daily double - line honours and a clear two minutes victory on corrected time over second-placer El Coyote (AUS) - and their first win of the Series. With Windstar (THA) finishing down in fourth it was Chloe Giselle (GBR) who slipped into third and with it hold a comfortable lead over Moon Shadow (THA) and Sail Quest Paprika (THA) in the overall standings.
Scoring with the NHC performance-based system it was Moon Shadow who claimed their first win of the Series in IRC Two (NHC) while in Premier (NHC) Siren were the winners with just 10 seconds separating El Coyote and Chloe Giselle.
Racing finishes tomorrow (Saturday 30th May) with the final prize-giving and Gala Dinner hosted at Centara Grand Beach Resort Samui.
The 2015 Samui Regatta takes place 23rd to 30th May at Centara Grand Beach Resort Samui, and is organised by Regattas Asia in conjunction with the Samui Yacht Club Regatta, under the auspices of the Yacht Racing Association of Thailand, the Municipal of Koh Samui and the Sports Authority of Thailand.
Full results can be viewed at www.samuiregatta.com/on-the-water/results.
# # #
Media Contact
Nungruthai Julakul/ Duncan Worthington
Infinity Communications
Tel: +66 (0) 83 650 6848/ +66 (0) 81 893 4006
Email: bdm@infinity-comms.com