19th May 2016 - 11:50
Event Media
World-class fleet to line-up for 15th Samui Regatta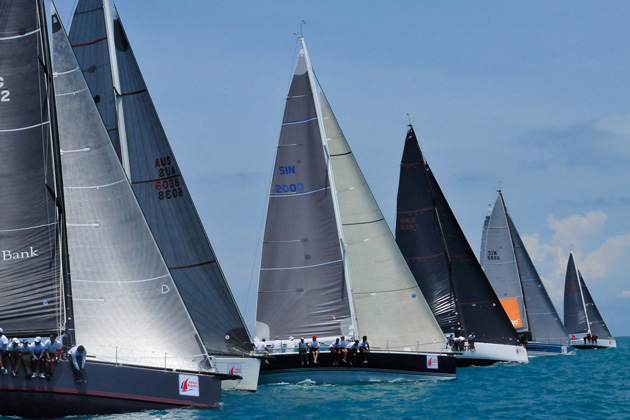 Samui is ready to host a week of top sailing competition and tropical fun in the sun as hundreds of sailors from across Asia and beyond converge on Samui Island for the 15th Samui Regatta. To be held 21st to 28th May, 2016 at Centara Grand Beach Resort Samui on Chaweng Beach, the 2016 edition is set to welcome a world-class fleet of sailors including the largest line-up of TP52's ever seen in Asia.
"This is possibly the best top-end racing fleet we've ever had at Samui Regatta, if not at any regatta in Asia," said Simon James, Race Director of organisers Regattas Asia. "There have been a few boats drop out at the last minute due to engine failure and similar in transit, however, this sometimes happens when more than 80% of the fleet are international. That said, the quality is there and we look set for an exciting week of sailing," added James.
The largest in this year's fleet is Frank Pong's RP75 Custom, Jelik (HKG). A regular at Samui Regatta and a past winner, Pong is up against six 52-footers in IRC 0, including five of Asia's top TP52's: Team Ulumulu (MAS), Freefire (HKG), Oi! (AUS), Millenium Racing (AUS) and the newest on the Asian TP52 scene, THA 72 (THA). Last but most definitely not least is the Welbourne 52 Windiskher II (SIN) of Sarab Singh who is back to defend his title.
A strong line-up in IRC 1 includes boats from Thailand, Australia, Singapore, Malaysia and Hong Kong, with crew from all four corners of the globe. Last year's class winner Jessandra II, skippered by Roland Dane, are looking to make it two in row but are up against some stiff competition from Ambush (HKG), EFG Mandrake (HKG), Uranus (MAS), Loco (SIN), Fujin (AUS) and Black Baza (HKG), who was recently crowned winner of the 2015/16 AsianYachting Grand Prix.
International Race Officer Ross Chisholm returns for his 10th straight year and plans to provide a mix of courses over the five days of racing, and if the wind blows may surprise competitors with the "Around Samui Island" race which has only once before been attempted in the regatta's 15 year history.
Rounding out the fleet is the Cruising Class with a predominantly Thailand-based fleet competing for the honours, including El Coyote (THA), Moon Shadow (THA), SailQuest Hi Jinks (THA), Freewind (THA) and the 90-year old 6-metre Selma (THA) who is just completing her first season of racing on the Thailand circuit after her owner shipped the 1926 classic from France to Krabi where she underwent renovations last year.
Returning after a few years hiatus is the dinghy fleet which includes more than 20 young sailors from Samui, Koh Phangan and Phuket competing over two days (21st and 22nd May) in Optimist and the 420 double-handed dinghy.
Home of the Samui Regatta, Centara Grand Beach Resort Samui is a popular host and venue of choice for sailors, and hosts the spectacular last night Gala Dinner - a highlight of the regatta and arguably one of the best regatta finale's in Asia.
The 15th Samui Regatta will take place 21st to 28th May, 2016 headquartered at Centara Grand Beach Resort Samui, and is organised by Regattas Asia in conjunction with the Samui Yacht Club Regatta, under the auspices of the Yacht Racing Association of Thailand, the Municipal of Koh Samui and the Sports Authority of Thailand.
For more information, visit www.samuiregatta.com.