27th May 2015 - 17:23
Event Media
A packed day of racing on Day 3 of Samui Regatta 2015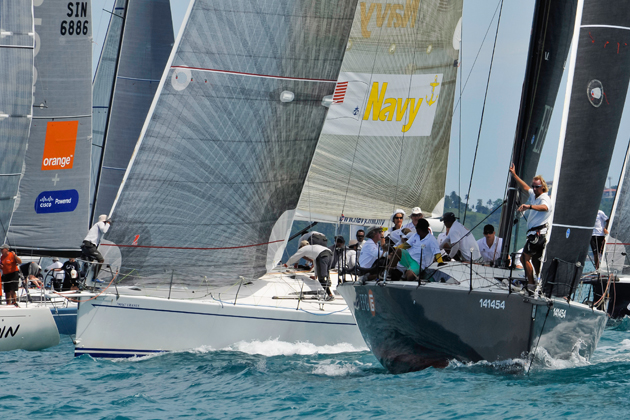 A full race-card was completed for all the fleet on Day 3 of the 2015 Samui Regatta: three windward/leewards kept the racers and cruisers busy with little time to rest.
The wind just about held in to finish the first race, after which Race Officer Ross Chisholm was forced to head further out to find some more pressure, and he did, promptly getting all classes off for their second windward/leeward of the day.
As the Series progresses the winning margins (and margins for error) are getting smaller and in IRC Zero today the racing was close with the honours being shared.
Jelik (HKG) added another line honours to their tally in Race 1 today, but it was no longer by the proverbial 'country mile'. In fact, just a mere 19 seconds separated them from the 52-foot Windsikher II (SIN) who bounced back from an off day yesterday and scored the first bullet of the day. Keeping them honest though was Oi! (AUS) who added a second to their two firsts yesterday to heap the pressure on the Singapore crew.
Jelik went from Zero to Hero in the space of an hour as they converted line honours in Race 2 to a win on corrected time. A little over a minute separated the rest of the class on corrected time as it was Windsikher II who slipped into second place, nine seconds ahead of Oi!.
FreeFire found their rhythm in the final race of the day and sailed to an impressive second but Oi! raised their game to a whole new level and finished runaway winners, four minutes clear on corrected time, and with it go into the Lay Day tied on 11 points with Windsikher II.
A disappointing day for Mick Tilden and his crew on Fujin (AUS) yesterday saw them having to settle for a fifth and DNF, however, they put that all behind them today and took their first podium of the IRC One Series, a third place. Jessandra II also had a similarly frustrating day yesterday and after their protest was thrown out it left them with a 3,5 scoreline and allowed arch rivals Foxy Lady VI (SIN) to jump above them in the standings.
Jessandra II were quick to bounce back with two solid second places in today's first two races but they couldn't hold off the Foxy Lady VI charge who added two more wins and opened up a clear Series lead.
Uncharacteristically calling it wrong, Foxy Lady VI got caught in a hole in the final race of the day and limped across the line in sixth place, opening the door for Jessandra II to make up some ground and they did, with an almost five minute winning margin over EFG Mandrake. Foxy Lady VI lead IRC One by two points going into the Lay Day.
IRC Two (IRC) - a diverse mix of sports boats, cruisers and premier cruisers ranging from 22-foot to 65-foot - also had a full race-card today with three windward/leewards, and it was El Coyote (AUS) who continued where they left off yesterday showing their class and securing two more wins ahead of the all-Thai crew on Windstar (THA), who scored two second place finishes.
After ripping her mainsail yesterday, the crew on Chole Giselle (GBR) were back on the startline and in the final race of the day sailed themselves to their first win of the Series, beating El Coyote by less than 40 seconds on corrected time.
Scoring the IRC Two fleet on the performance-based NHC system, Windstar leads IRC Two (NHC) adding three more wins today to their already clean sheet while in Premier (NHC) a 2,1,2 for El Coyote keeps them at the top.
Asked about the chances of the "Around Samui Island" race being held on either of the final days, Race Director Simon James confirmed it will be put back in the race cupboard for another year.
Tomorrow is the Lay Day. Racing continues on Friday 29th May.
The 2015 Samui Regatta takes place 23rd to 30th May at Centara Grand Beach Resort Samui, and is organised by Regattas Asia in conjunction with the Samui Yacht Club Regatta, under the auspices of the Yacht Racing Association of Thailand, the Municipal of Koh Samui and the Sports Authority of Thailand.
Full results can be viewed at www.samuiregatta.com/on-the-water/results.
# # #
Media Contact
Nungruthai Julakul/ Duncan Worthington
Infinity Communications
Tel: +66 (0) 83 650 6848/ +66 (0) 81 893 4006
Email: bdm@infinity-comms.com