22nd May 2016 - 20:21
Event Media
Dinghy racing makes a return at 2016 Samui Regatta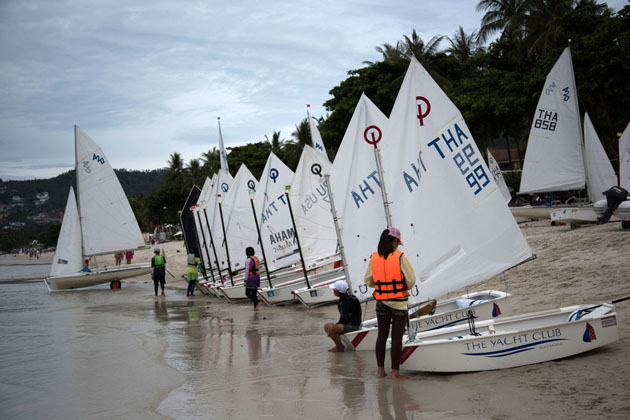 The 2016 Samui Regatta kicked off with two days of dinghy racing on the opening weekend (21st and 22nd May) - 23 young sailors from Samui, Phangan Island and Phuket competing in two classes: Optimist Dingy Class and 420 & RS Feva Class - which is to be followed by five days of sailing for the keelboat classes starting tomorrow (Monday 23rd May)
The first day of the dinghy racing was cut short by a storm. With winds gusting to 45+ knots a sterling job from the race management and on-water safety teams saw all boats and sailors back on shore safe and sound, and with just a single race completed it meant the pressure was on on the second and final day of racing on Sunday 22nd May.
Three races for both classes were run on the second day and using his local knowledge Natthakarn Panyawan (Samui) finished with a 2,5,3,2 scoreline that was enough to secure the win by one point from Keeratila Krongbun (Phuket) with Bunyamin Klongsamut (Phuket) one point further back.
Samui Regatta has hosted Optimist racing many times in the past and despite a few years hiatus, Optimists returned this year due to the joint efforts of the regatta organisers and the Samui Yacht Club Regatta. With many of the Samui optimists having been paid for previously by Samui Regatta sailors and crew from Hong Kong and Singapore, it was fitting to see them back racing at the regatta, underscoring the grassroots and community spirit of this truly international event.
A first this year for the regatta this year was the introduction of the 420 & RS Feva Class comprising five entries.
A strong finish from the pairing of Nattapol Panyawan/Stephanie Bjork (Samui), with two wins in the final two races saw them tie Kanchai Wongpadung/Suwanna Kingkaew (Phangan) on points, with the count-back in Nattapol Panyawan/Stephanie Bjork's favour. Three points back in third place was the 420 of Adisak Kingkaew/Teerawut Thamut (Phangan).
So often there is no pathway for youth sailors beyond the Optimist, and it is encouraging to see the Koh Phangan Youth Sailing School's initiative to introduced 420 and RS Feva racing opportunities to youngsters in the area.
Following the dinghy class prize-giving and official opening party for the main event this evening at Zico's Brazilian Grill & Bar, the keelboat classes start their racing tomorrow (Monday 23rd May).
The 15th Samui Regatta takes place 21st to 28th May, 2016 headquartered at Centara Grand Beach Resort Samui, and is organised by Regattas Asia in conjunction with the Samui Yacht Club Regatta, under the auspices of the Yacht Racing Association of Thailand, the Municipal of Koh Samui and the Sports Authority of Thailand.
For more information, visit www.samuiregatta.com.