30th May 2015 - 15:22
Event Media
Final race decides the titles at Samui Regatta 2015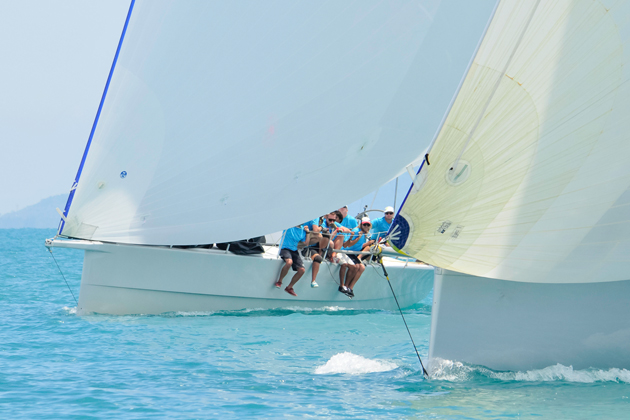 It all came down to a light-wind showdown on the final day of the 2015 Samui Regatta. With upto two races planned (and hoped for), it was not to be as the breeze was just enough to move the fleet around one windward/leeward before Race Officer Ross Chisholm was forced to call it a day. It wasn't perhaps "all guns blazing", but it was certainly tense out there with IRC Zero and IRC One to be decided by the single race.
Taking a two point lead into the final day, Windsikher II (SIN) needed to keep Oi! behind them (on corrected time) if they were to take the title and with the wind peaking around six knots the customized Welbourn 52, rigged for light wind, was hoping to ride their luck. Oi! (AUS), however, is no slouch in light air either. With years of Asian sailing experience in the fingertips of co-owner Peter Ahern, it was going to be close.
A final line honours for Jelik (HKG) could not be converted into a handicap win and they had to settle for fourth in the race behind fellow Hong Kong competitor, FreeFire.
Just one minute was the separation between first and second and despite their poor start back in the second row, Windsikher II sailed a great comeback to cross the line just a few seconds behind Oi! which was enough to secure the race win on corrected time and with it, the IRC Zero Samui Regatta 2015 title.
It was all to play for in IRC One with defending champions, Foxy Lady VI (SIN), having a slight edge over Jessandra II (AUS) and EFG Mandrake (HKG) heading into the final day. After a slight delay to the start as the RO waited for breeze, the class got underway in a 5-knot tactical battle of wits, and patience.
The largest boat in the class, Uranus, sailed by the Royal Malaysian Navy, made the most of their waterline keeping the DK47 moving around the course to take line honours. The margin on-the-water wasn't enough to convert to a win, but they held onto second place on corrected time adding valuable points to their total.
Crossing the line in second, Blue Note (SIN) had their best performance of the week converting to a solid third place and with it pushed Foxy Lady VI (SIN) off the podium and into fourth. A 6,4,4 scoreline from the last three races of the Series hurt Foxy Lady VI and a win in the final race for the Australian entry Jessandra II saw them crowned IRC One Samui Regatta 2015 champions.
A casualty of the light winds in IRC Two (IRC) was El Coyote (AUS) who could only place third in today's race. However, a strong run of four firsts earlier in the Series meant the final result was never in doubt. El Coyote are crowned IRC Two (IRC) Samui Regatta 2015 winners ahead of Siren (HKG) who saved their second win of the Series for the last race tying them on points with Windstar (THA) overall, with the tie breaking in Siren's favour.
Scored using the NHC performance handicap system, in IRC Two (NHC), it was Moon Shadow (THA) from Windstar from Sail Quest Paprika (THA) with Windstar being crowned overall winner, while in Premier (NHC) it was Siren from El Coyote from Chole Giselle (GBR) with El Coyote claiming the overall honours.
Results: Top three in each class
IRC Zero:
1) Windsikher II, Sarab Singh (13pts)
2) Oi!, Ahern/ Bailey/ Wilmer (16pts)
3) Jelik, Frank Pong (21 pts)
IRC One:
1) Jessandra II, Roland Dane (15pts)
2) Foxy Lady VI, Bill Bremner (17pts)
3) EFG Mandrake, Nick Burns/ Fred Kinmonth (19pts)
IRC Two (IRC):
1) El Coyote, Gary Baguley (8pts)
2) Siren, Bryan Coianiz (14pts)
3) Windstar, Patinyakorn Buranrom (14pts)
IRC Two (NHC):
1) Windstar, Patinyakorn Buranrom (7pts)
2) Moon Shadow, Mick Grover (10pts)
3) Sail Quest Paprika, Tim McMahon (19pts)
Premier (NHC):
1) El Coyote, Gary Baguley (9pts)
2) Siren, Bryan Coianiz (10pts)
3) Chloe Giselle, Michael Hough (14pts)
Despite loosing their Samui Regatta crown, Bill Bremner and Foxy Lady VI performed best over the last year on the regional sailing circuit and were crowned 2014/15 AsianYachting Grand Prix Skipper and Yacht of the Year for the second year in succession.
The 300+ sailors celebrated a great week of sailing in Samui at the closing party and Gala Dinner hosted by Centara Grand Beach Resort Samui.
Full results can be viewed at www.samuiregatta.com/on-the-water/results.
# # #
Media Contact
Nungruthai Julakul/ Duncan Worthington
Infinity Communications
Tel: +66 (0) 83 650 6848/ +66 (0) 81 893 4006
Email: bdm@infinity-comms.com