28th May 2016 - 15:59
Event Media
20 knots of breeze delivers fantastic finale to 2016 Samui Regatta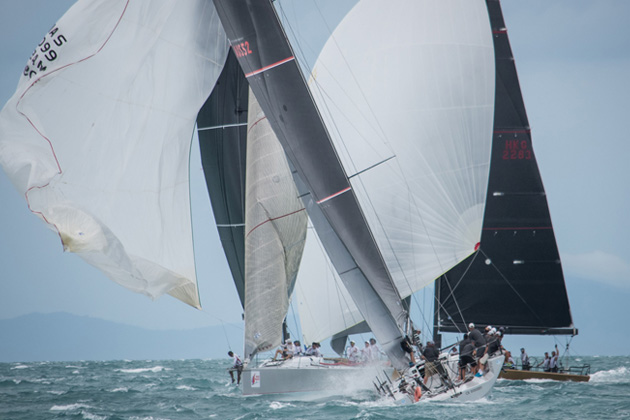 After beginning the week with storms gusting to 40+ knots, the 2016 Samui Regatta settled into its tradition of delivering consistent, fresh breeze concluding with 20 knots today and lots of surfing as the fleet completed two races and with it brought down the curtain on a successful 15th Samui Regatta.
IRC Zero and IRC One were the leaders' to lose but the two windward/leewards set for all classes would determine the podium places and the winners in Cruising.
First up were IRC Zero and it was another win for Kevin Whitcraft's THA72, and with that they wrapped up the title. Some may argue it was all a little repetitive, but with a well set-up boat and a crew that didn't drop a beat all week, they made it look all too easy. Despite their dominance on the results sheet, Sarab Singh's Windsikher II pushed them hard in Race 1 today finishing one minute behind on corrected time - the closest of the series - while a further seconds back was the Bailey/ Wilmer Oi!
With just two points separating Windsikher II and Oi! going into the final race, and THA72 not competing, all was still to play for.
Two minutes separated the top three in the final race of the IRC Zero series and it was the fast finishing Oi! who claimed the race win. Windsikher II, however, sailed a solid race to correct out in third and with it secured their second place overall in the standings. Troy Yaw's Team Ulumulu scored their second podium of the series, a well earned third.
Jessandra II galloped to another win in IRC One and much like THA72 they wrapped up their class with one race to spare. Fujin sailed into second place ahead of EFG Mandrake III and with it closed the margin to two points in the overall standings.
Although having already won the class title, Jessandra II were out on the course racing hard and despite their valiant efforts had to settle for second in the final race, a mere three seconds behind EFG Mandrake III. David Dimmock's Loco finished third - their second podium of the series - and just nine seconds separated the top three in the final race.
Winning the last race was enough to steer EFG Mandrake III into a comfortable second place overall with the Brown/ Ketelbey/ Sorensen Fujin in third.
A DNS for Moon Shadow and DNF for SailQuest Hi Jinks turned the Cruising Class into a two boat showdown and it was Le Cochon Noir V who drew first blood. Winning by just six seconds they took the series into a final race decider, one point adrift of El Coyote.
Just two Cruising boats on the startline turned the final race into a drag race, and El Coyote sealed the title in style with the race double - line honours and the win on corrected time.
Having scored three firsts, two second places and one fourth on the 2015/16 AsianYachting Grand Prix (AYGP) championship this season, Steve Manning and Anthony Root's Ker 42 Black Baza, were crowned Skipper and Yacht of the Year at the season-ending Samui Regatta and with it add a new name to the AYGP's history - the "hardest sports trophy to win in Asia".
The Samui Regatta came to a close with the traditional lavish Gala Dinner on the lawn hosted by Centara Grand Beach Resort Samui, marking the end to the regatta's 15th year and the start of planning for the 16th which will take place 20 to 27 May, 2017.
Overall Results (top three in each class)
IRC Zero
THA72, Kevin Whitcraft (9 pts)
Windsikher II, Sarab Singh (25 pts)
Oi!, Scott Bailey/ Fergus Wilmer (26 pts)
IRC One
Jessandra II, Roland Dane (12 pts)
EFG Mandrake III, Nick Burns/ Fred Kinmonth (20 pts)
Fujin, Brown/ Ketelbey/ Sorensen (25 pts)
Cruising
El Coyote, Gary Baguley (10 pts)
Le Cochon Noir V, Roman Guarsa (12 pts)
SailQuest Hi Jinks, Tim McMahon (23 pts)
For more information, visit www.samuiregatta.com.