30th July 2022 - 06:57
Scott Murray
Light winds, but racing underway.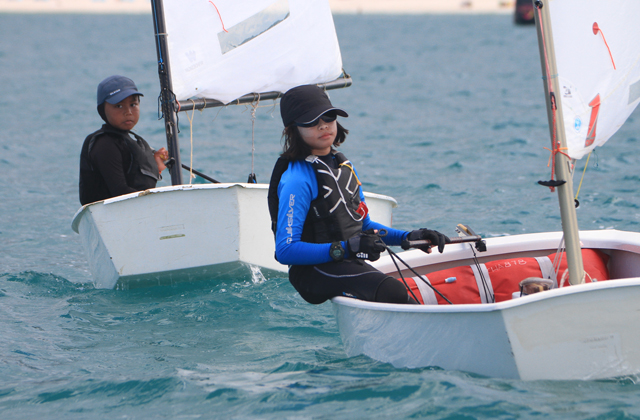 The 19th version of the Samui Regatta sailed its first race today as lack of wind caused the postponement of the first day's sailing.
After a brief delay, the regatta was finally underway, with one race for the 23-boat Optimist Class and two in for the 3-boat Laser Class. As the wind faded, the under 10's fleet battled, an increasing tide. But many made some great tactical decisions to finish the race.
With storm clouds brewing over the west coast of the island, the wind slowly died, with the young sailors returning to Chaweng Beach for their lunch, hoping to come back later in the day to do some more sailing.
Sadly, the winds wouldn't cooperate and the morning's sailing was all they would get.
With Chaweng beach offering such a great venue, the young sailors weren't fazed: they still had a great time, frolicking in the waves, swimming and building sand castles.
Sarawin Kaminthong on Win was first in the 16-boat Optimist Boy's Class today followed by Tammachat Sriopason on Tammachat with Nattapon Arinchum on Tae finishing third.
Meanwhile, the 7-boat Optimist Girl's Class saw Suchanya Kaminthong come first while Tanyatip Limmaneerak was second with Sinanrat Lertpoonsawat was third.
Tammachat Sriopason on Tammachat took the 12-boat Optimists Under -10 Class followed by Imtiyaz Sittisan and Navatawan Jaemjit.
And in the 6-boat Optimists Under-12 Class Suchanya Kaminthong sailed to victory followed by Ratpong Nitisahaku and Tanyatip Limmaneerak.
The ILCA Open Handicap Class saw Kawin Dablek on Winner win both races on handicap followed by Siwanun Lertpoonsawat on th 4.7 and Chanwud Phramlek on his ILCA 7 who were second and third, respectively.
Chandran and his fellow colleagues with the on-water team did their best moving buoys and changing courses to deal with the constantly changing wind patterns.
The host venue of the regatta this year is Banana Fan Sea and they staged the evening night party on the beach.
The organizers would like to thank the Tourism Authority of Thailand for supporting the regatta because the regatta could not have taken place without the TAT's kind assistance.
The regatta finishes Saturday and all spots are up for grabs; let's hope the wind cooperates and gives these fine young Thai sailors a full day on the water tomorrow.
Full results can be found on samuiregatta.com